About Hand-tufted Carpets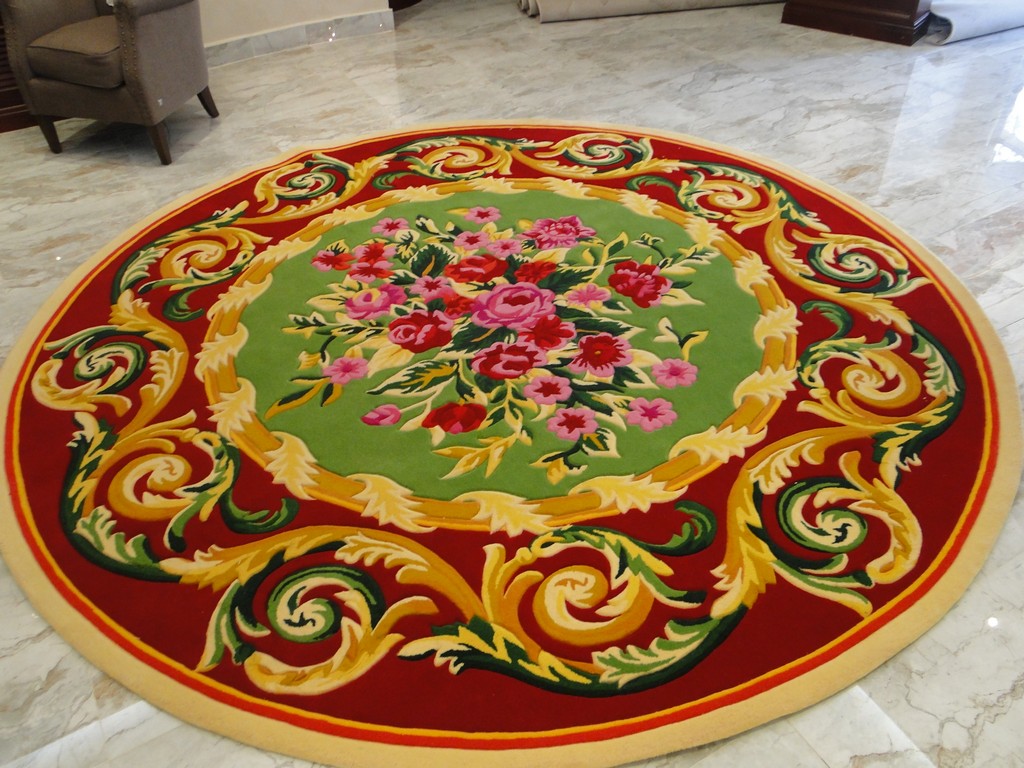 Hand Tufted carpets and rugs are manufactured using 100% New Zealand wool, Viscose, Silk, or a blend of these fibers. We offer carpets made of yarns of wool, silk, viscose, or a blend of these yarns. Using different blends of fibers can give the carpet or rug a very distinct look and feel in your project. Adding as little as 10% silk can give the extra look of elegance you desire. The pile construction may be cut pile, loop pile, or cut and loop pile. By using different piles, you can add an extra dimension to your design. The finished carpet or rug may have a carved or un-carved surface. By carving the pile of the carpet or rug, designs can be made to stand out and given a three dimensional look and feel.
Areas of use are wall-to-wall installations in living rooms, ballrooms, lobbies, restaurants, or used as rugs in lobbies or formal dining rooms. Whether creating wall-to-wall carpeting in a minimalist bedroom, an elegant, circular staircase runner, or a traditional house area rug, hand tufting offers almost limitless options.
Hand Tufted carpets and rugs offer versatility in design and construction. Easily customized and very durable, tufted carpets are perfect for a wide range of design applications. Hand-tufted carpets can withstand high traffic, and will begin to wear out after 12 to 20 years of use. High traffic areas include hallways, family room and entryway. Medium traffic areas include the dining room and home office. Low traffic areas include bedrooms and formal living room.
When designing Hand Tufted carpets and rugs, you may use your own design, work with our designers, or pick from our design library. Our Hand Tufted carpets and rugs gives you limitless possibilities with your designs, colors, shapes, styles, and looks you want to achieve for your projects. Hand Tufted carpets and rugs can be manufactured in long pieces without seams in many different styles, colors, and textures. By using Hand Tufted carpets and rugs, only limit in design is your imagination.
Benefits of Hand Tufted Carpets:
• Faster to make
• Flexibility for a custom design to fit any area.
• High pile – gives more luxury, reduces noise pollution, reduces breakage cost, increases AC efficiency,
• It is flame retardant,
• Dirt repellent,
• Contributes less to toxic gases and smoke than other flooring products, when used in carpets
• Life expectancy is about 10-15 years when used in high traffic areas.